You are successful. Whether this is a success in your career, your business, your home life, with your friends, in love, in your personal development, or your spiritual life. Wouldn't it be great to bring in a little bit more success in our lives? Perhaps in the form of a book?
When we think about being a dynamic woman, we can be successful in who we are, not just in what we do. This is why I'm so excited to talk bout our Dynamic Women Success Secrets anthology we published last month…and share an announcement about our next collaborative book!
How the Dynamic Women Success Secrets anthology came to be
Fifty-two women share their success stories in the book, but some of you may not know that it was not my original intention to publish 52 stories.
I knew so many women and colleagues who had great stories to share. As I coached them in my one-on-one and group programs, I got to know their stories even better. Even though it was not part of their journey to write their own books, I felt it was my job to help them get their story and knowledge out there in other ways, so they can share who they are, and we can learn from them and grow and be motivated and inspired.
The ripple effect that one person's story can have on others is extremely powerful. I wanted to give a voice to women who didn't have a goal to write a book or those who felt writing their book was just too much work. Or as I found out later, they maybe didn't feel that they had the confidence to put a book together themselves or that they even had a story worthy enough of being in print.
Originally, I planned to have 25 women featured in the book. But as I met more women, I kept seeing what could be possible for them as a published author, how it could change their lives and careers, and how it could add to their legacy.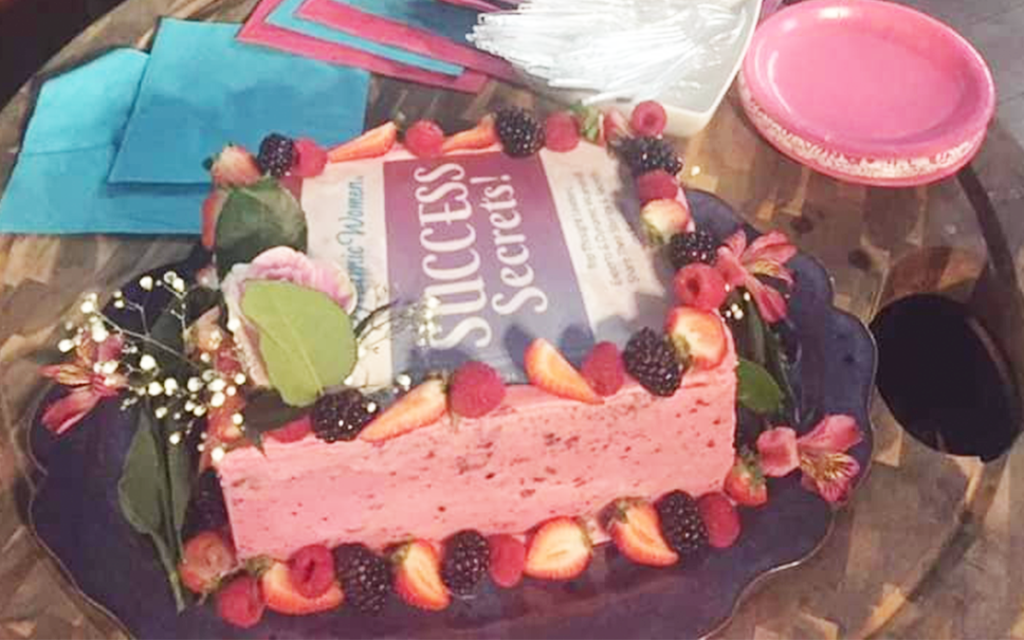 52 Co-authors = 1 Story Per Week!
I finally decided on inviting 52 authors to co-author this book. This means that every week you could read one short story on success and let its' lessons percolate throughout the week.
Reading one short story a week gives you the opportunity to have the whole week to implement the inspiration, the message, the secrets each of our co-authors are giving you.
You may be saying "But I want to read it one story every day or I want to sit down and actually read it through to the end in one sitting." That's awesome too! Just remember, it's not just about consuming it as fast as possible until it's gone. Take the time to actually live some of the truth and messages that are in the book.
We've compiled a huge variety or kaleidoscope-like mix of different kinds of women and stories. Is this book we've got, we've got:
CFOs
award winners
a Ms.Canada
successful entrepreneurs
solo business owners
network marketing superstars
stay-at-home-moms
and so many more!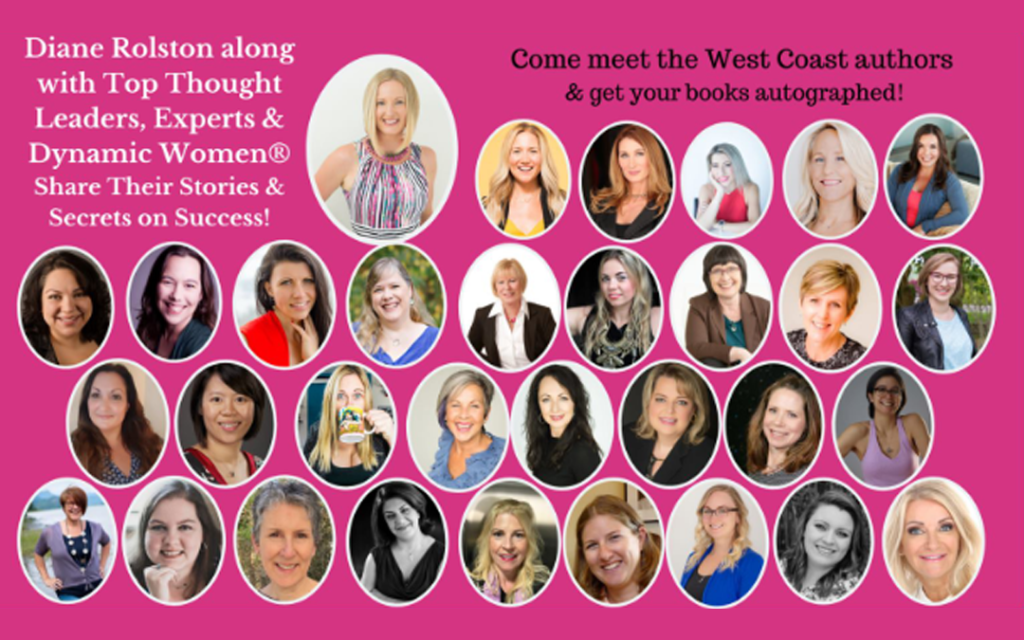 Powerful Messages of Success
The accomplished women in this book were selected because of their commitment to serving others and their willingness to share their secrets for living a successful life.
When you read the book, I know that you are going to have some really powerful insights and shifts. With inspiring stories and real-life examples, the Dynamic Woman Success Secrets book is going to show you simple tips to move ahead, to boost your motivation. It's going to help you to increase your success. You'll learn from successful women, you'll expand your network of dynamic mentors because you get to read the stories and learn more about them.
This book will also help you to feel inspired to achieve your goals. Not every woman in the book makes multiple millions of dollars. Not everyone lives in a mansion. Not everyone is an award winner. But each one of them is valuable. Each is successful in her own way.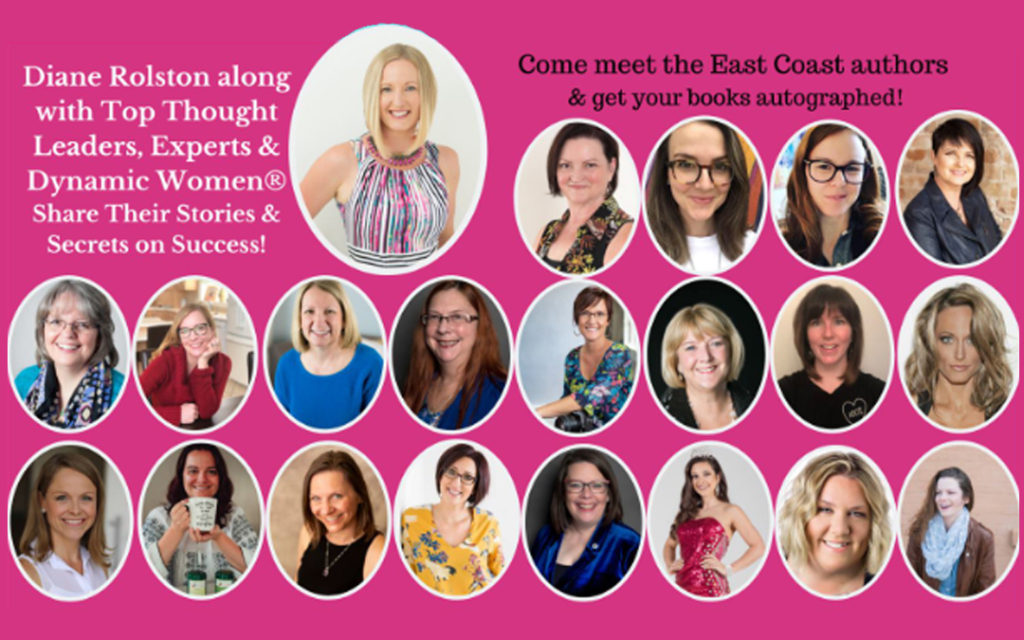 The Launch Parties!
I've got strong business and family ties in Ontario and BC, so I was able to include women from both regions in this book. To celebrate the first book launch, we held two book launch parties, one in Brantford, Ontario and the other in Vancouver, BC because most of the book contributors were in those regions. Both launch parties were so much fun, but the best part was just seeing the authors autographing their piece in the book.
One of them came up to me at the launch party and said, "Diane! Today, I actually became an author! It feels real now because the party is happening and everybody's asking me to autograph the book, taking photos of me with the book, and touching the book! It's real now and thank you so much."
The joy on the author's faces as they were signing or autographing the books was just so fulfilling for me. I feel so blessed to be surrounded by such amazing women and to bring their stories to you.
This book made 52 women authors, many for the first time. It was such an amazing experience for all involved, that I'm committed putting out another collaborative book every year. In 2020 the theme will be on confidence and I'm currently working on the theme for 2021 so stay tuned for that.
If you want to check out the book you can get your copy from one of the authors, or go to dianerolston.com/success.
If you want to be in a future book email me at [email protected].
---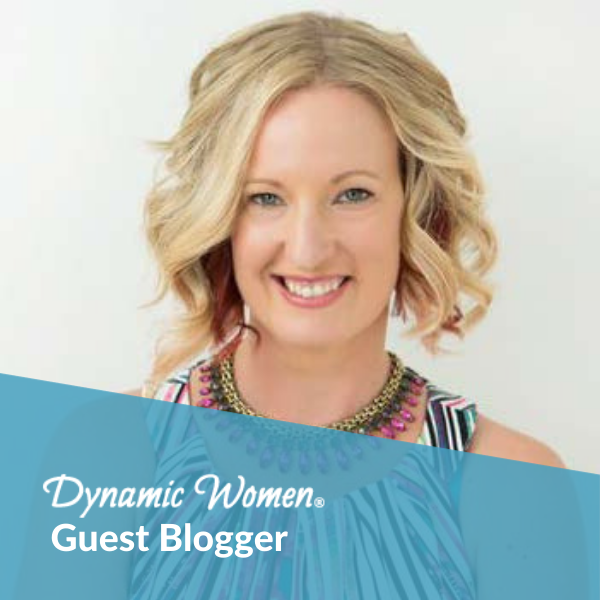 About Diane

As an Award-Winning Coach and the CEO of Dynamic Women®, Diane Rolston has been called THE expert on being Dynamic. She is a behind the scenes advisor and coach for many professionals, speakers, and high achievers.

After leading events, speaking on international stages, and becoming an author while raising two young children, Diane is a leader on work/life balance.

When speaking to groups ranging from 10-10,000+ and in her Coaching, she teaches anyone who wants to increase their results, how to correctly manage, package, and sell their time, experience, and expertise.

Diane is interested in win-win joint ventures and speaking opportunities in which she and her partners can support each other's long term goals. You're invited to email [email protected]

Website | Facebook | LinkedIn